Our History

Proclaiming themselves as a group of baptized believers in the "Solid Rock" and professing that "Solid Rock" to be the Lord Jesus, five inspired Christians: the Reverend J. D. Davis, Brothers W. M. Crawford, Sam Nichols, Louis Cooper, and Sister Lula Cooper organized and chartered Mount Nebo Missionary Baptist Church in October 1923. After a facility had been secured and plans finalized, the congregation of Mount Nebo Missionary Baptist Church held their first official worship service on April 12, 1924, with the Reverend J. D. Davis serving as the first pastor. His tenure lasted for two years.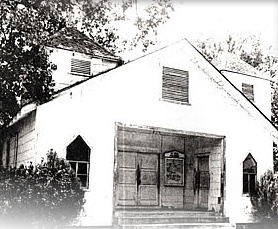 Between 1924 and 1950, the small but devoted congregation experienced membership growth and had two other pastors: the Reverend J. H. Jackson (1926-1930) under which two deacons: Brothers Louis Cooper and Sam Nichols were ordained; and the Reverend Early King (1930-1950) under which two ministers: The Reverends Louis Cooper and Dave Smith, and seven deacons, Brothers Jacob Bell, F. B. Cooper, Nathan Cooper, John Crockett, Sam Holloway, Leroy Sutton, and C. H. Thompson were ordained. The church grew out of its original structure and a new structure was erected in 1931 at 1238 Tupelo Street.

Following the pastorate of the Reverend Early King in 1950, the Reverend Fred B. Black assumed the duties as pastor. Pastor Black ordained four ministers: The Reverends W. L. King, Willie Lewis, Albert Myles and Jessie Redmond, and nine deacons: Brothers Antwine Adams, Samuel Grant, Jewell Griffith, Dennis Holman, Clarence Johnson, Jessie Johnson, Willie Johnson, Eddie King and M. P. Smith. Also, the Reverend Henry Collins served as an associate minister. Under Pastor Black's leadership, the church experienced tremendous growth and it was evident that still another building phase was necessary. Realizing the inevitable, Pastor Black and his dedicated parishioners embarked upon the task. Through God's grace and mercy, the congregation of Mount Nebo Missionary Baptist Church triumphed on July 30, 1972, by holding Dedicatory Services in a totally new structure at 1245 Tunica Street. Like Moses, Pastor Black was unable to witness the service due to illness, and his administration ended upon his death in May 1972.

On September 12, 1972, the election of the Reverend Jessie Redmond as the Church's fifth pastor etched yet another milestone in the growth and development history of Mount Nebo Missionary Baptist Church. In 1976, the current structure was upgraded to include a fellowship hall, three classrooms, a library, a shedded "drive-thru" and was made accessible to the physically challenged. Shortly, thereafter, additional enhancements resulted in office space for the secretary and a day care center.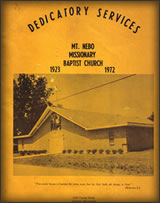 Since its origin, Mount Nebo Missionary Baptist Church has vigorously pursued its mission of "Saving the Lost, Strengthening the Weak and Helping the Poor." However, on May 13, 1994, the congregation's pursuit was briefly altered by fire which destroyed a portion of the present sanctuary including the baptistry. Renovation to the burned section was completed in December 1994, and a Rededication Service was held on January 8, 1995.

On July 30, 2000, Dr. Redmond retired as pastor. His twenty-seven-plus-year tenure yielded a total of five ministers: the Reverends M. P. Smith, Dennis Grant, Cleotis Pendleton, James Young, and Henry Griffith, Jr.: nine deacons: Brothers Bobby Brent, Charles Carter, Floyd Daniels, Freddie L. Davis, Cedell Hendricks, Dan Orey, Jr., Curtis Pendleton, Barry Thomas, Richard Thomas and Ben Vaughn; three evangelists: Catherine Collins, Yana Johnson and Michelle Orey, and a more biblically informed congregation.

In August 2000, the Reverend John A. Wicks, Jr. was appointed Interim Pastor and delivered his first message on August 13th. On January 18, 2001, Reverend Wicks was elected to serve as Mount Nebo's sixth pastor. After careful reflection and prayer, he accepted the call on March 6th and was installed on March 25th. Under his leadership, three ministers, the Reverends Marshall Magee, Ray Bailey and Brandon Pierce, have been licensed and have served as associates along with the Reverends Henry Griffith, Jr., Dexter Johnson, Murry Johnson, and Melvin Smith. The Reverends Wayne Payton and the late Donald Mickel also served faithfully for several years. Finally, eight deacons, Brothers Fredrick Crockett, Larry Grant, Jeffery Taylor, Curtis Betts, Michael Jones, Ravaughn Robinson, Jimmie Wheeler, and Roosevelt Wilson have been ordained.

Over the years Mount Nebo has been very active in the surrounding community, especially during the civil rights movement. In Summer 1964, Mount Nebo hosted one of Mississippi's 41 freedom schools. These schools were set up to draw attention to racism in Mississippi's education system, to further the voter education drives that had been a civil rights priority in the state for three years, and to educate the undereducated in what the civil rights movement was all about. Additionally during this challenging time, Mount Nebo hosted community meetings where candidates outlined platforms and solicited votes. Most recently, Mount Nebo has hosted the regularly monthly meetings of the Jackson chapter of the NAACP, and the church continues to support the cause of equality for all of God's children.

Mount Nebo has also made significant contributions in assisting the needy and to the field of education. During the 1980s, the church served as the host facility for Hinds County Human Resource programs. These programs provided assistance to needy individuals, families and senior citizens. In June 1992, a Learning Center was begun at Mount Nebo which served both as a day care center and early childhood education facility. Over the years, hundreds of young people were provided with an excellent start to their lifelong learning experience through this center. From 2005 to 2007, Mount Nebo served as the host facility for the Mississippi Baptist Seminary of the General Missionary Baptist State Convention. The seminary serves to equip ministers and laypersons with the knowledge necessary for the advancement of God's church and God's people.

Though we have accomplished much in the years since 1923, our job has yet to be completed. Today, Mount Nebo is in action for the "Cause of Christ" as it strives to promote leadership capabilities, generate cooperativeness, cohesiveness and love among its members and bring to fruition the true emphasis of its motto: "A Friendly Church Serving A Faithful Christ."